GRAY WOLF ADVANCED SENSE IAQ PRO MONITOR. This Indoor Air Quality meter configured with CO2, CO, H2S,Temperature, Relative Humidity and Total VOCs (ppb). The AdvancedSense ® Pro IAQ monitor is an IAQ meter that has been specifically developed for both walk-thru tests, and for long term tests, which includes either hours, days, and weeks. The unit has a trend logging function which are the two modes needed for checking indoor air qualities thoroughly. The model has the capacity to gauge a wide variety of gases and elements, which includes carbon dioxide, carbon monoxide, TVOCs, humidity and temperature.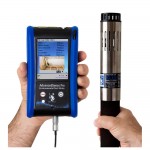 GRAY WOLF MODEL FM-801. This is a Formaldehyde Multimode Monitor used for continuous monitor and spot checks.  Requires the purchase of sample cartridges.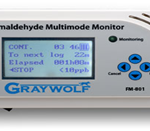 TSI P-TRAK ULTRAFINE PARTICLE COUNTER. The P-Trak allows you to follow pathways of the very smallest particles right to the source. These "ultrafine" particles are far too small to see and can stay suspended in the air for long periods. By identifying these particle sources and correcting problems, you can maintain a healthier building and save wear and tear on expensive equipment.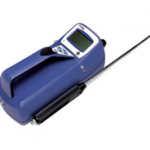 TSI Q-TRAK Plus Indoor Air Quality Monitor. Simultaneously CO2, CO, temperature and humidity measurements. Calculates dew point, wet bulb and percent outside air; Large graphic display; Displays up to 5 measurements; On-screen messages and instructions; Supports 12 different languages; One instrument with multiple plug-in probe options including VOC's and air velocity; Store up to 39 days of data collected at one-minute log intervals. TRAKPRO™ data analysis software provided for data logging, analysis and documenting results. Bluetooth communications for transferring data or remote polling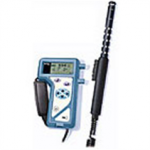 The QUESTemp 36 portable heat stress monitors incorporate wet-bulb globe temperature (WBGT) sensing technology. These portable instruments calculate and display a WBGT Index value that considers the affects of ambient air temperature, humidity, air flow (which provides an evaporative cooling effect to the body) and radiant heat from sources such as the sun, furnaces, ovens, and boilers. Heat stress monitor with an integral RH sensor for quick, accurate indoor or outdoor WBGT index values. Optimizes safe work time with real-time guidance on work/rest regimens. Has datalogging function, and are compatible with 3M Quest software for data storage, retrieval, analysis, reporting and charting. Features multiparameter sensor for accumulations of temperature, humidity and air velocity data needed to calculate a variety of thermal comfort indices.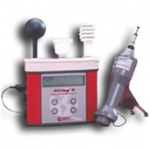 QUEST EVM-4/CO INDOOR AIR QUALITY (datalogging) MONITOR for CO2, CO, Temperature, and Humidity, (with air probe input connector). Kit includes base model with CO2 and CO sensors, 12V DC universal power supply, toxic gas calibration adapter, USB cable, and storage case.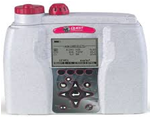 The DustTrak™ Aerosol Monitor measures aerosols in a wide variety of environments, from offices and industrial workplaces to outdoor environmental and construction sites. TSI's DustTrak provides reliable exposure assessment by measuring particle concentrations corresponding to PM10, PM2.5, PM1.0 or respirable size fractions.

The DustTrak™ II Aerosol Monitor 8530 is a desktop battery-operated, data-logging, light-scattering laser photometer that gives you real-time aerosol mass readings. It uses a sheath air system that isolates the aerosol in the optics chamber to keep the optics clean for improved reliability and low maintenance. It is suitable for clean office settings as well as harsh industrial workplaces, construction and environmental sites, and other outdoor applications. The DustTrak II Aerosol Monitor measures aerosol contaminants such as dust, smoke, fumes, and mists.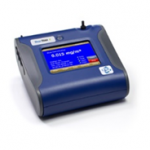 TSI VelociCALC 8386® Plus Multi-Parameter Ventilation Meter simultaneously measures and data logs several ventilation parameters using a single probe with multiple sensors. The ventilation meter measures temperature, velocity and pressure. It also features automatic calculation of flowrate and automatic conversion between actual and standard velocity readings. Model 8385 measures velocity with either a thermal sensor or a Pitot tube. The model also measures differential pressure.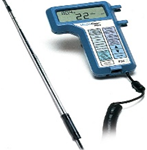 AIRMETRICS MINIVOL PM10, PM2.5, TSP, CO, NOX PORTABLE AIR SAMPLER. Portable sampler which provides air quality data that is comparable to results from FRM samplers. Has a patented low flow technology. Particle size separation is achieved by impaction, and gas samples can be taken simultaneously with particle collection.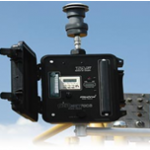 QuickTake® 30 Pump (10 to 30 L/min). Designed for use with BioStage viable cascade impactor, VersaTrap spore trap cassettes, asbestos filters, or impactors. Includes keypad programmable timer, display of sample time, and end-of-cycle alarms. Accessories include mounting bracket for viable cascade impactors, sampling wand for spore trap samples in ductwork, and tripod stand.
SKC AIR CHECK XR5000 with extended flow range: 5 to 5000 ml/min. Suitable for low flow gas/vapor or high flow particulate sampling. Three interchangeable battery options: high-power Li-Ion for extended runs, standard Li-Ion for lighter weight, and disposable AA alkaline batteries for fast emergency response.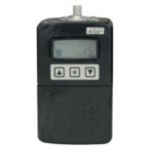 SKC POCKET PRO MOISTURE METER.  Features integrated humidity measurement and an NTC air thermometer. Use the Pocket PRO Moisture Meter for monitoring wood and material moisture to predict drying times, ensure construction best practices, and verify water damage. The alkaline battery-operated Pocket PRO Moisture Meter provides 130 hours of operation on one pair of AAA-type batteries.
SKC FIBRE OPTIC SCOPE.  This powerful new fiber optic scope has been re-designed for easier examination of areas normally hidden from sight. It is ideal for internal inspection of furnaces, ducts, A/C systems, interior structures, between walls and many other HVAC and industrial applications.
SKC GAST MODEL 1532 HIGH VOLUME VACUUM PUMP, 115V. Rotary vane pump with open flows to 32 L/min, locking flow valve, 10′ tubing, and silencer for quieter operations.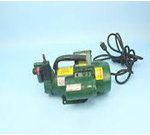 NEXTTEQ GV-110-S-TR GASTEC PUMP KIT.  Backed with features, the standard Gastec Gas Sampling Pump (GV-100-S-TR) is the only pump you need for measuring gas and vapor concentrations quickly and accurately. Small, lightweight, and rugged, this pump is perfectly calibrated, displays ambient temperature, and includes a lifetime warranty. It is simple, always ready, and intrinsically safe. The Gastec Detector Tube and Pump System has been designed specifically with the end user in mind to allow for ease of use without compromising safety.This unit comes with a One-Hand Adapter.  For use with Gastec Detector Tubes
MYCOMETER FIELD FLOUROMETER & ACCESSORIES. The Mycometer allows for rapid onsite fungal contamination assessments, for both air and surface samples.  Requires purchase of assays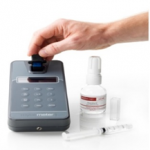 Ludlum Model 3-IS Intrinsically Safe Radiation Survey Meter. The Ludlum Model 3-IS Intrinsically Safe Survey Meter was designed to be used in environments where explosives are used. These explosive resistant survey meters are often used on constructions sites, oil fields and oil rigs. The Ludlum Model 3-IS Survey Meter is Certified to: UL 913, Class I, II, & III, Division 1 Groups A,B,C,D, CSA C22.2 No.157, UL 61010-1, CSA C22.2 No. 61010-1. Measures Alpha-Beta and Gamma Radiation.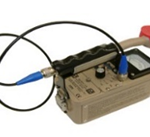 FLIR C2 Compact Thermal Imaging System. The FLIR C2 is the world's first full-featured, pocket-sized thermal camera designed for a wide range of building and electrical/mechanical applications. Keep it on you so you're ready anytime to find hidden hotspots, energy waste, structural defects, plumbing clogs, HVAC issues, and other problems. FLIR C2 makes it more affordable than ever to add the powerful advantage of thermal imaging.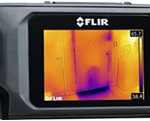 FLIR Systems MR160 Imaging Moisture Meter. MR160 is your go-to troubleshooting tool right out of the box: Identify cold spots with the built-in, 80×60-resolution thermal imager to locate areas of moisture. Verify the actual moisture level using the meter's pin and pinless moisture measurement functionality. Capture thermal images and moisture readings on one screen, then generate reports with free FLIR Tools software.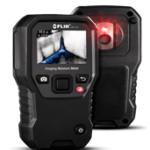 SPER SCIENTIFIC VISIBLE LIGHT LOGGER. Advanced Light Meter.  NIST Certified. Reads lux, foot candles and functions as a type K or J thermometer. Records data onto standard SD memory cards.When full, simply exchange SD cards for unlimited data storage. Removable SD card is easy to transport and insert into a computer's memory card slot or SD card adapter. Uploads preformatted data to Excel™ without the need for additional software and cables. Additional SD cards are readily available in a variety of memory sizes. Can also stream data directly to a computer using the optional software and cables. Each data set includes lux or foot candle reading, time and date. Features large, easy-to-read backlit LCD, push-button zero adjustment, min./max., auto power off, low battery indicator and hold function.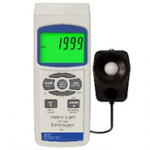 Defender 510 calibrators make it easier than ever to calibrate air sampling pumps. Measure volumetric flow, standarized flow, which correct for temperature and pressure, or calibrate devices that read in mass flow.Defenders are true primary flow meters designed to provide light weight ultra-compact size, incorporating the industry leading DryCal technology. Building on the patented DryCal near-frictionless piston technology, the Defender 500 series incorporates features to make it immune to flow source pulsation without the need for in-line dampers.